Decorative hand towel origami is an artistic way to add fun and elegance to any bathroom. Hotels often use folded towels to impress their guests, but you can easily recreate these techniques at home. With a little practice, you'll be able to transform basic hand towels into beautiful works of art.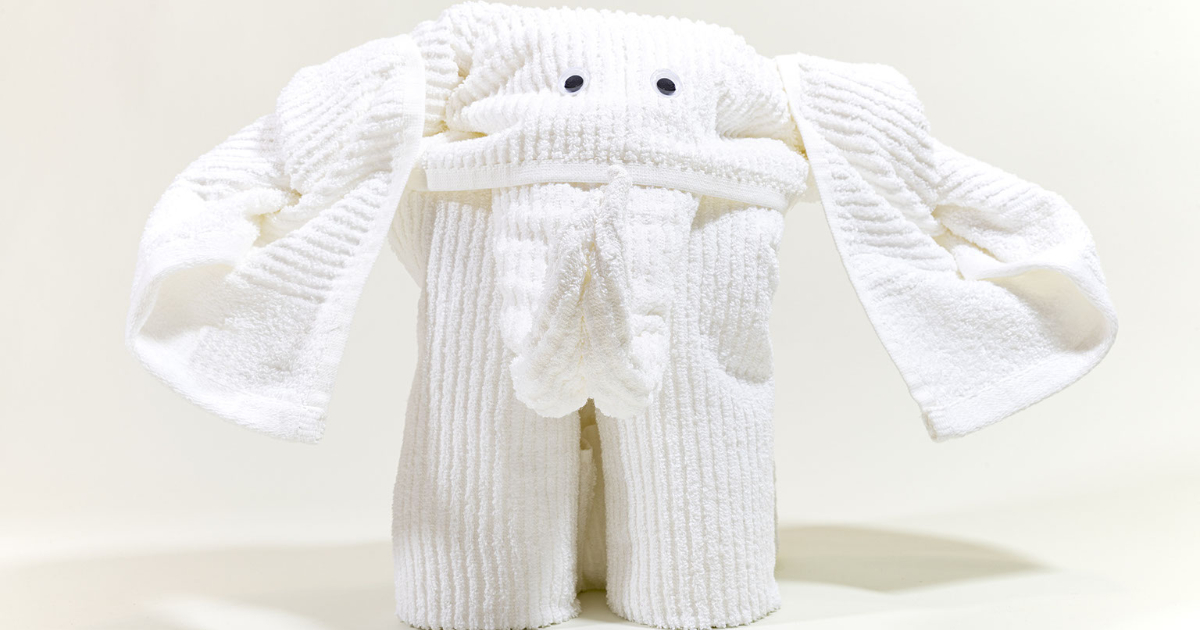 There are many simple hand towel folding techniques to try. The key is starting with high-quality, fluffy hand towels that will hold their shape well. From basic folds to elaborate origami creations, here are some fun ways to elevate your hand towels.
The Classic Trifold
One of the most basic yet polished folding techniques is the trifold. To achieve this, lay your hand towel flat and fold it into thirds vertically. Next, fold the towel again horizontally into thirds. This creates a neat, compact folded towel with all edges tucked in.
Stacking multiple trifold towels gives a tidy, orderly look that is perfect for a guest bath or powder room. The rounded folds and fluffy texture gives trifold towels a luxurious feel. Best of all, this technique takes just seconds per towel. Making trifold towels part of your daily routine is an easy way to maintain a tidy, elegant bathroom aesthetic.
The Pocket and Fan Fold
For a more decorative look, try the pocket and fan fold. This technique creates a practical towel that also impresses guests with its artistry.
To make a pocket and fan fold:
Fold your hand towel in half lengthwise.
Next, fold it in half again crosswise. This creates a pocket along the bottom when the towel is hanging.
Take a smaller towel or washcloth and accordion fold it into a fan shape.
Tuck the fan into the pocket you created.
Hang the towel so the pocket and fan are displayed. The contrasting textures and colors between the hand towel and folded washcloth create visual interest.
You can get creative with color combinations and fabric patterns. Use a neutral hand towel as the base, and choose a brightly colored washcloth for the fan. The pocket is also great for holding small toiletries or flowers.
The Swan Towel Fold
If you want to take your hand towel folding up a notch, try your hand at origami folds. The swan design is one of the most impressive yet accessible origami folds. With just one bath or hand towel, you can create an elegant swan sculpture.
Follow these steps:
Lay your towel flat in landscape orientation.
Fold the top corners diagonally into the center so they meet. This forms a triangle shape.
Roll the outer edges inward toward the center.
Fold the triangle into a Z shape: one-third down, two-thirds up.
Lay the Z shape down and gently squeeze the corners to set the curves.
The final product should resemble a swan with a curved neck and fanned wings and tail. Place two swan towels beak-to-beak to create a heart shape. Surround them with flower petals for a romantic display.
The swan fold is popular in high-end hotels and resorts because it transforms a basic towel into an elegant work of art. Mastering this origami technique is sure to impress your family and guests.
Rolled Spa Towels
Spa-style rolled towels create a tidy, pampering look for your bathroom. This technique also allows you to display multiple sizes of towels in a decorative basket.
To make rolled spa towels:
Take a bath or hand towel and fold it in half widthwise. For larger towels, fold in half a second time as well.
Starting at one end, roll the towel tightly into a cylinder shape.
Place the rolled towels upright in a decorative basket, alternating sizes.
Fill any gaps with rolled washcloths.
The uniform towel rolls give a soothing, orderly look. Arrange them in a lightweight basket for an easy way to store and display towels in the bathroom. For variety, use towels in different colors and patterns. A matching set of spa towels makes a great gift basket too.
Towel Roses
For a touch of romance, transform your hand towels into gorgeous roses. This technique works best with washcloths or similarly small towels. You'll need towels in rose colors like red, pink, or white.
Follow these steps:
Fold the towel in half and then in half again.
Roll the washcloth from one end to the other.
Twist the center lightly to shape the rose petals.
Arrange in a vase or bowl.
Surround your towel roses with real leaves and petals to complement the fabric blooms. Display a bouquet of towel roses to instantly elevate any bathroom. They also make lovely gifts for newlyweds, Valentine's Day, and more.
Vary the size and color of your blooms for a natural look. With just a few basic folds, you can create a gorgeous floral arrangement that lasts much longer than the real thing!
Animal Towel Folds
Animal shapes are a playful way to fold hand towels for children or anyone young at heart. From bunnies to elephants, animal folds really make your towels come alive. They add personality and fun to any bathroom.
Some easy animal folds include:
Bunnies: Fold a hand towel into a triangle. Flip the point up and continue folding it into triangles. Tuck in ends for ears.
Cats: Roll a towel into a long tube for the body. Use a washcloth for the head.
Crab: Fold a hand towel into a cone shape. Pull out twisted ends for pincers.
Let the kids decorate completed animal towels with googly eyes and other crafty embellishments. Having your own menagerie of towel creatures is sure to brighten anyone's day.
The Towel Cake
Looking for a showstopping way to display towels? A towel cake makes a gorgeous centerpiece for special occasions like bridal showers or birthday parties. The "frosting" is made from beautifully rolled and stacked towels.
To make a towel cake:
Roll hand towels tightly and secure them with ribbon.
Stack rolls from largest on the bottom to smallest on top.
Decorate with ribbons, flowers, or other embellishments.
Display your towel cake as the focal point of a gift table or bathroom.
White is the traditional color, but brightly colored or patterned towels add flair. Complement the towels with decorations in the theme color.
Towel cakes take some time to assemble, but they make a big visual impact. The impressive folding transforms humble towels into an elegant frosted confection.
Creative Display Ideas
The way you present your folded towels is just as important as the folds themselves. Take your towel artistry to the next level with creative display ideas:
Drape swan towels over a towel hook or bar rather than lying flat.
Nestle a towel bunny on a bed of fresh hand towels.
Float candlelit paper boats holding towel roses in the bathroom sink or tub.
Perch towel crabs or turtles on stacks of guest towels.
Place an elephant parade of towel animals along the counter, sink, or bathtub rim.
Pile folded towels into a vintage suitcase, crate, or other unexpected vessels.
FAQ
What type of hand towel is best for origami folding?
The best hand towels for origami have a thick, fluffy texture that holds folded shapes well. Opt for quality 100% cotton towels or cotton/polyester blend towels. Avoid thin towels that easily lose their form.
How do I make a hand towel monkey?
Start by rolling a hand towel lengthwise into a tube. Leave one side slightly longer to form the head. Secure the head with a rubber band, then twist the longer side into the ears. Use washcloths for the face and hands to finish your monkey.
Can I use hand towel origami for a wedding?
Absolutely! Decorative towel folding makes elegant additions to wedding decor. Popular ideas include: a towel cake instead of tiered cupcakes, origami towel hearts or swans for decoration, and rolled guest towels presented in baskets.
What types of decorations can I add to hand towel origami?
Get creative with decorations! Try using artificial floral stems, googly eyes, ribbons, mints, or other small trinkets. Stick to non-toxic craft materials for towels displayed in bathrooms. Avoid sharp or hazardous objects.
How do hotels create those towel animals?
Hospitality staff are trained on specific folding techniques to form the animals. With practice, origami becomes second nature. Typical hotel folds include swans, elephants, dogs, and turtles. Refer to online tutorials to learn each intricate technique.
What's an easy way to display rolled hand towels attractively?
Rolled hand towels look great stacked vertically in a shallow basket, bucket, or bin. For variety, display towels with the rolls facing both outward and inward. You can also stand rolled towels upright in a line along the countertop or sink rim.
Conclusion
Add a touch of luxury and creativity to your bathroom with the art of decorative towel folding. With practice, you'll be able to quickly shape beautiful blooms, sculptures, and other intricate designs using only basic hand towels.
Show off your hand towel origami to delight your family and impress guests. Elevate your everyday bathroom routine with this simple, artistic skill.