Turkish towels have become increasingly popular in recent years.
But what exactly are they, and what makes them so great?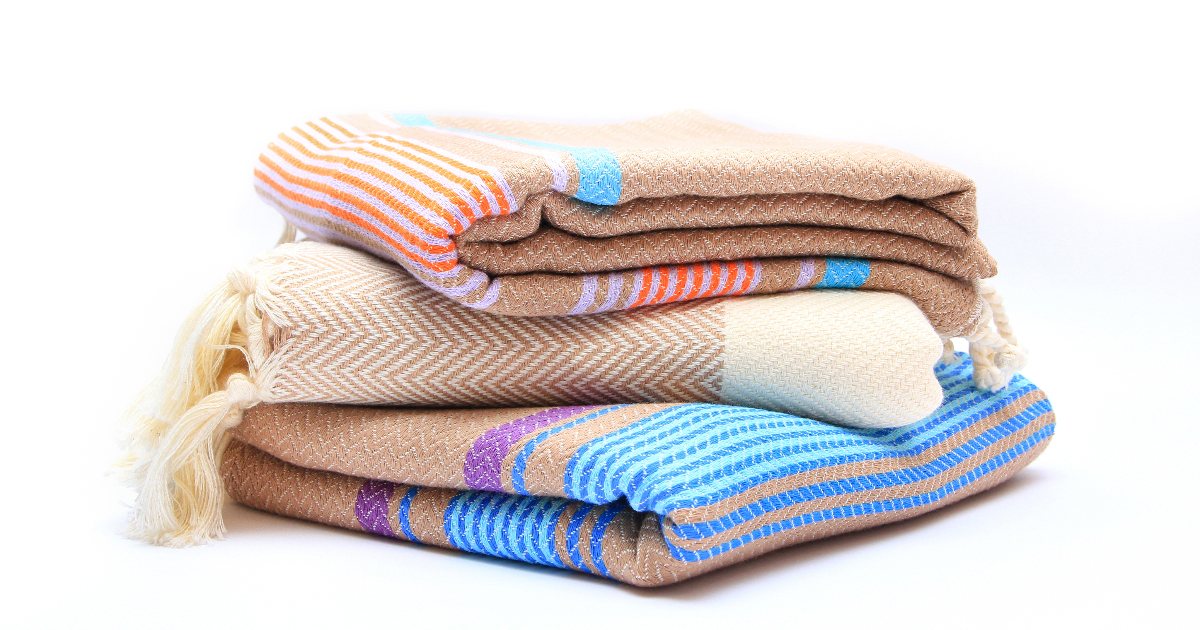 We will tell you everything you need to know about these unique and versatile towels.
A Brief History of Turkish Towels
Turkish towels, also known as pestemal or hammam towels, originated in Turkey and have been used for centuries in Turkish baths and hammams. The earliest known towels were produced in the 17th century in Bursa, Turkey.
Traditionally made from Turkish cotton, these lightweight towels were designed to be quick-drying and highly absorbent – perfect for the hot and humid conditions of the baths. Their use eventually spread around the Mediterranean and Middle East.
What Makes Turkish Towels Different
There are a few key differences between Turkish towels and regular bath towels:
Materials: Turkish towels are woven from long-staple Turkish cotton, which has longer fibers than regular cotton. This makes them smoother, more durable, and extra absorbent.
Weave: Rather than a terry or looped weave, Turkish towels have a flat, almost sheet-like woven texture. This allows them to dry faster.
Weight: Turkish towels are lighter and thinner than terry cloth towels.
Size: Turkish towels come in larger sizes, usually around 40 x 70 inches.
Look: The flat weave gives Turkish towels a more elegant, spa-like look compared to plush terry towels. Many feature colorful striped patterns and fringed edges.
Why Choose Turkish Towels?
There are many benefits that make Turkish towels a great choice:
Absorbency: The long cotton fibers make these towels super absorbent. They sop up water quickly.
Fast drying: Thanks to the flat weave, Turkish towels dry much faster than terry cloth. No more soggy, mildewy towels.
Lightweight: Easy to carry and pack for travel and the beach. They take up less luggage space.
Versatile: Use as bath towels, beach towels, throws, tablecloths, scarves, and more.
Eco-friendly: They require less frequent washing and energy for drying. Turkish cotton also needs fewer pesticides.
Durable: Properly cared for, Turkish towels last for years and get softer over time.
Visually appealing: The colors and patterns give these towels a stylish, exotic flair.
Turkish Beach Towels vs. Bath Towels
While they can be used interchangeably, Turkish beach and bath towels have slight differences:
Beach towels tend to be lighter in weight with more colorful designs. The flat weave means less sand sticks to them.
Bath towels may have a terry cloth back for extra absorbency and warmth. They come in more subtle, neutral colors suitable for bathrooms. The sizes are smaller.
But both styles share the signature features of Turkish towels that make them so exceptional.
How To Use a Turkish Towel
The versatility of Turkish towels gives you tons of options:
As a regular bath towel – their absorbency rivals terry cloth
As a beach/pool towel – they dry quickly with minimal sand
As a sarong or cover-up – stylish and absorbent
As a blanket or throw – provides warmth without weight
As a tablecloth or picnic blanket
As a yoga/Pilates mat – easily portable to classes
As a scarf or shawl when travelling
For swaddle blankets, crib sheets, and more for babies
As decor – use their colors and patterns to accent your home
For guest towels – their slim size is perfect for powder rooms
So get creative and find even more ways to use these multi-purpose towels!
Caring For Your Turkish Towels
Follow these tips to keep your towels looking and feeling their best:
Wash first: Launder towels before first use to maximize softness and absorbency.
Gentle cycle: Use a delicate cycle and cold water when washing. Avoid bleach.
Air dry: Line or flat drying is best to prevent damage from heat. These towels dry quickly!
No softener: Avoid fabric softener and dryer sheets. They coat the fibers and reduce absorbency.
Fringe care: Untie and retie any loose fringe threads. Don't cut them.
Vinegar rinse: Occasionally rinse towels in vinegar water to remove residue and restore absorbency.
With proper care, your Turkish towels can last for many years. They just get better with age!
What To Look For When Buying
When shopping for Turkish towels, keep these signs of quality in mind:
100% Turkish cotton – avoid blended fabrics
High GSM (300+ grams/square meter) – indicates density and durability
Hand-loomed in Turkey for artisan quality
Natural dyes like indigo for eco-friendliness
Well-tied fringe without loose threads
Fairtrade and sustainably produced
While Turkish towels are an investment, their years of use make them well worth the price for a luxury product.
Turkish Towels vs. Regular Towels
So should you make the switch from regular towels? Here's an overview of how they compare:
| Turkish Towels | Regular Terry Towels |
| --- | --- |
| Absorbent | Absorbent |
| Lightweight and quick-drying | Bulky and slower to dry |
| Get softer over time | Lose softness and get scratchy |
| Stylish appearance | Basic appearance |
| Elegant drape | Can't be used as blankets, beach wraps, etc |
| Pack and travel well | Heavy and take up more space |
| More eco-friendly | Usually made of shorter cotton fibers |
| Naturally antimicrobial | Can harbor more bacteria |
| Higher upfront cost | Cheaper upfront cost |
| Last for years | Replace more frequently |
As you can see, Turkish towels outperform regular towels in many regards. If you don't mind the higher price tag, they are definitely worthwhile for their quality and longevity.
FAQ
How often should you wash Turkish towels?
Every 3-4 uses is ideal. Because they dry so quickly, Turkish towels don't need frequent washing. Follow care instructions and don't use fabric softener.
Can you put Turkish towels in the dryer?
Yes, but use low heat. Line or flat drying is best to preserve their softness and colors.
How do you soften a Turkish towel?
Wash on delicate and air dry. Soaking in vinegar water helps too. Don't use fabric softener.
Why are my Turkish towels pilling?
This happens when loose cotton fibers tangle. Try washing less often and air drying. Use a de-pilling tool.
How do I get sand out of my Turkish beach towel?
Shake the towel vigorously to dislodge sand after use. Rinse the remaining sand out rather than washing it entirely.
Conclusion
With their superior absorbency, softness, and versatility, it's easy to see why Turkish towels are becoming a must-have item for both homes and travel. Choosing genuine Turkish cotton over lower-quality imitations will ensure you get a durable product that lasts.
Take proper care of your towels by washing them in cold water, air drying, and avoiding fabric softeners. This preserves their luxurious feel and absorbency. With so many uses, beautiful designs, and quality craftsmanship, Turkish towels are an investment that can be enjoyed for years to come.